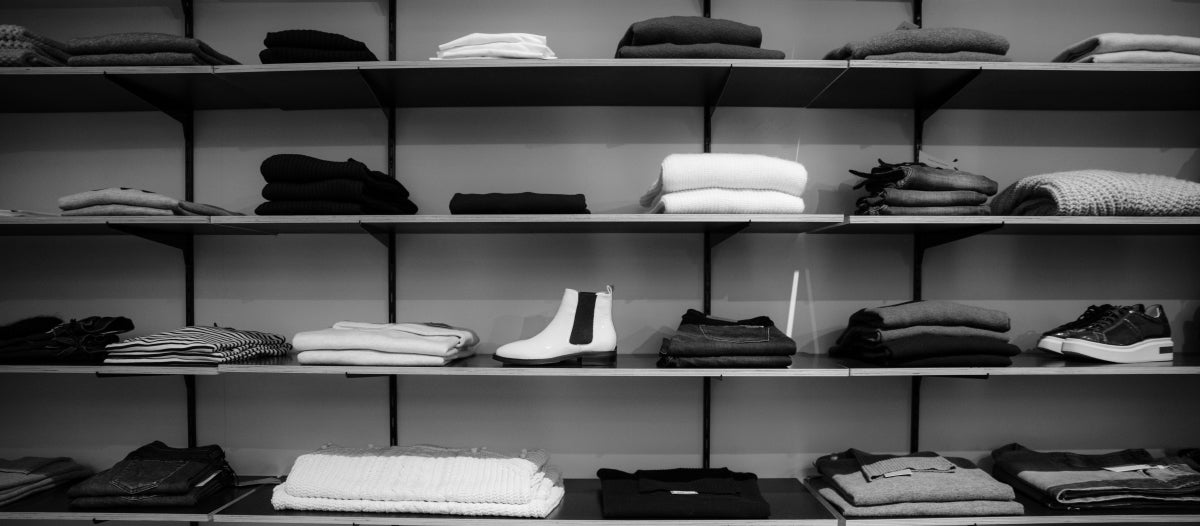 In the last few years, "sustainable" has become something of a buzzword. We see it in reference to our cars, our food, even our daily habits. Of late, the sustainability movement has even found its way into the fashion industry via trends such as upcycling, which involves reusing and repurposing fabric for garments. 
That being said, dresses made out of upholstery fabric aren't everyone's cup of tea. Fortunately, there are plenty of ways you can wear your values without sacrificing your standards—or your image. And not only can you support sustainability with luxury fashion choices, you can support your community and give to those in need. 
The Problem with Fast Fashion
To understand the push for sustainability in fashion, it's important to understand the ways in which the fashion industry is currently un-sustainable. 
At the heart of this debate is the fast fashion industry. The term "fast fashion" was coined to refer to the rapid speed at which retailers manufacture and distribute inexpensive, trendy clothing. This business model was popularized in the '90s and '00s, and was quickly fed by the expansion of online shopping. By enabling customers to keep up with fashion trends much more quickly than they had previously been able to, fast fashion companies encouraged consumer habits that focused on habitually buying and discarding low-quality clothing—only to repeat the cycle when a new trend arrived on the scene. 
But behind the relatively low price tags of fast fashion garments is another, much steeper cost. In their hurry to quickly produce inexpensive garments, fast fashion companies often turn to lower-quality materials and countries with lower minimum wages and fewer labor laws, resulting in poorly made products and the exploitation of workers. Not such a good look after all. 
Additionally, fast fashion is extremely detrimental to the environment. Fast fashion manufacturing processes rely heavily on the excessive use of water (some of which cannot be reused because it is contaminated by dyes), and are also a major source of carbon emissions (which contribute to global warming). Further, synthetic materials like polyester, which is often used in fast fashion production processes, contain higher amounts of plastic microfibers. When these garments are washed, the fabric breaks down and those microfibers are carried into the ocean with the waste water. 
Options like high-end, pre-loved clothing represent the opposite of fast fashion in every way. Consignment shops that specialize in upscale goods aim to give new life to quality clothing that produces no waste and makes high fashion more affordable. Many of these shops, like North Shore Exchange, also donate proceeds to philanthropic causes. As such, when you consign or shop at NSE, "wearing your values" also means giving back to 14 local charities that fight food insecurity, homelessness, and domestic violence.  With every item you purchase from NSE, 100 percent of our profits go to fund local charities, leading to $2.6 million in grants awarded in just 8 years! 

Moving Away From Fast Fashion—and Toward Luxury
To combat the environmental and social impacts of fast fashion, The United Nations Alliance for Sustainable Fashion has called for more responsible sourcing, manufacturing, and consumption habits. Fortunately, moving away from fast fashion also means moving toward longer-lasting, better-quality clothes. 
Although some people might balk at the thought of spending more money on well-crafted, luxury clothing, it's actually the more responsible option. Luxury brands tend to be more discerning in the materials they source because they are looking for high-quality fabrics. Further, because they are committed to attention to detail, designer brands are more likely to employ skilled laborers in places like Europe, where strict labor laws ensure they are paid a fair wage. 
There's also the matter of quality and longevity. If you've bought luxury clothes before, you may have noticed that they're often sewn with larger seam allowances, meaning that they can be tailored, re-used, and passed on rather than being thrown out. Between that and the fact that luxury clothes are made with superior, more durable fabrics, they're likely to last longer, which ultimately creates less waste and reduces luxury items' cost over time. 
Luxury Consignment Shopping
Advocates for sustainable fashion have also pointed to pre-loved or consignment shopping as excellent opportunities to practice sustainability. Further, many consignment shops and thrift stores are operated by charities and nonprofit organizations that reinvest their profits in community service programs, meaning that the money you spend on pre-loved, high-quality clothing and accessories isn't just staving off the detrimental effects of fast fashion—it's also actively contributing to positive change within the community.
North Shore Exchange is a nonprofit luxury consignment shop that offers pre-owned and pre-loved designer  clothing, vintage jewelry, and accessories. Our expert Merchandising team carefully inspects all products to ensure authenticity, so you can shop for discount luxury items with complete confidence. Explore high-quality, timeless handbags, jewelry, clothing, or home accessories and decorative objects!
In addition to the environmental and social impact you'll be making by shopping at a consignment store, you can feel good knowing that North Shore exchange supports Chicagoland charities, and that your purchases are helping to provide food for the hungry, shelter for the homeless, and services to prevent abuse to children and families. 
You can also donate or consign your own luxury items by creating an account with North Shore Exchange today. Get cash for the luxury goods in your home, and find new ones at great prices—all while giving back to the community. It's the best of all worlds!