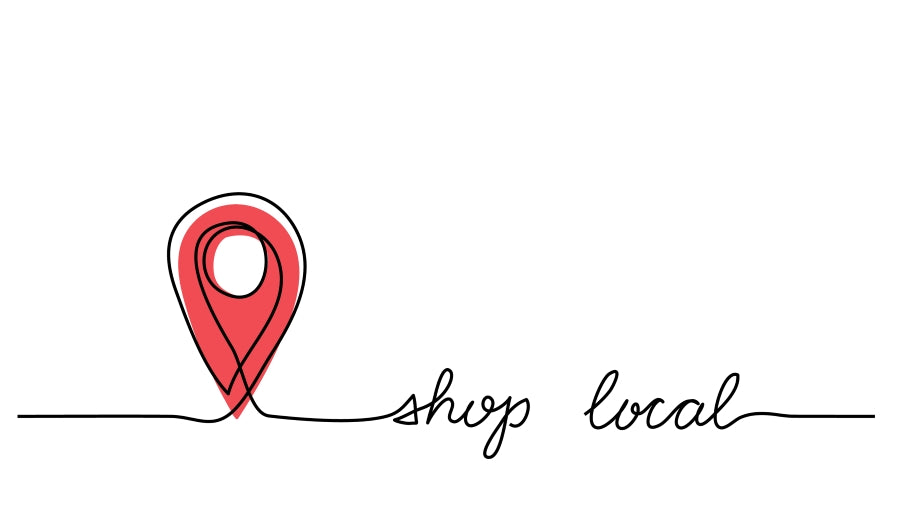 8 Reasons To Shop Small and Support Local Businesses
In recent years, there has been a growing trend of shopping locally and supporting small businesses. During the pandemic, people witnessed how vulnerable their economic ecosystems could become without local support, and many made a point of spending in their own communities to help keep the lights on in beloved local establishments. Now that COVID restrictions have largely been lifted, it's also more enjoyable to get out of the house and shop local than ever.
Both now and in the future, it's in everyone's interest to make local shopping a permanent habit. By doing so, you can improve the quality of life in both your community and on the planet as a whole. You can even make your own life richer and happier in the process. Here are eight top reasons to shop local and shop small.
1.  Support Your Neighborhood & Find Community
One of the most compelling reasons to shop locally is to strengthen the place you call home, during good times and bad. Small businesses are often owned and operated by your community "neighbors," and they contribute to the local economy by creating jobs, paying taxes, and investing in the town and region. When you shop at a small business, you're supporting your neighbors' livelihoods. You're also promoting the development of your community and any nonprofits that its businesses support as well. Every local purchase results in multiple benefits!
2.  Get Personalized Service
Small businesses often offer a more personalized shopping experience than chain businesses and franchises. The owners and staff are more likely to engage customers in conversation, exchange local news, get to know their patrons, and develop a relationship with them. Entrepreneurs can also offer customized services and make recommendations based on their customers' styles, needs, and preferences. This level of personalized service is often difficult to find at larger chain stores, where the staff turnover is higher, and the focus is on efficiency.
3.  Discover Unique Products and Services
Local establishments often offer unique products and services that are not available at larger chain stores. That's because they can be more flexible and responsive to their customers' preferences, especially those of their "regulars." They can source unique products from local suppliers and artisans, and can tailor their offerings to meet the demands of the local market. Shopping locally allows you to find items, offerings, and discounts that aren't available anywhere else. When you're loyal to a local business, they'll be loyal to you as well!
4.  Be Kind to the Environment
Shopping locally can also have environmental benefits. When you shop at small businesses, you're showing some love to the planet by:
Reducing the need for long-distance shipping and transportation, which leads to fewer carbon emissions generated from large delivery vehicles over long distances
Supporting businesses that are more likely to offer environmentally friendly products and

sustainable practices

than large corporations
Combining errands within walking distance of fewer drop-off or parking locations; this limits travel time and reduces the carbon emissions generated from your own car, taxi, or rideshare service
Reducing the waste of material goods (when you shop at local stores that feature preloved items)
5.  Support Your Local Economy
Small businesses are critical to your economy's growth and development. The jobs they create, the taxes they pay, and the investments they make help to drive local wealth and support other businesses. When you shop at a small business, your dollars are more likely to stay within your community. In fact, for every $100 spent at a local business, about $68 stays in the community, compared to only about $43 when you spend at a national chain. 
6.  Keep Your Community Socially Vibrant
Small businesses also contribute to the social fabric of a community. They provide a gathering place for locals where residents can meet and interact with each other. They may also sponsor local events and activities, which bring the community together and foster a sense of shared pride and belonging. By supporting small businesses, you are helping to strengthen the social bonds that make a community strong and vibrant.
7.  Adopt Healthy Habits for Happiness
Studies show that people with diverse social connections—even and especially informal ones, like the eatery hosts and shopkeepers at your most-frequented establishments—have an increased sense of contentment and wellbeing in their lives. When you shop locally, you get to know the people who make up your community better, even if you only visit their businesses a couple of times per month. Building these small casual relationships can help you feel more connected with your community and happier with the life you live in it.
8.  Get Better Quality Products
Small businesses often offer superior products than larger chain stores. This is because they're more likely to take pride in their merchandise and services, and to invest in quality materials and craftsmanship. They may also have more control over their supply chains, which helps to ensure that their products meet high standards. At independently owned establishments, you can find items that are made with care and attention to detail.
The next time you're in the market for a product or service, consider seeking out offerings at local small businesses. Your purchase could make a big difference in the lives of the owners, employees, and residents of your community. And who knows, you might just discover a hidden gem and form a lasting relationship with a small business that enriches your life in more ways than one.
Shop Small and Local at North Shore Exchange
North Shore Exchange is a nonprofit luxury consignment shop that offers pre-owned and pre-loved designer furniture, clothing, contemporary and vintage jewelry, and accessories. Our expert Merchandising team carefully inspects all products to ensure authenticity, so you can shop for discount luxury items with complete confidence. Explore high-quality, timeless handbags, jewelry, clothing, or home accessories and decorative objects!
You can also donate or consign your own luxury items at North Shore Exchange today. Get cash for the luxury goods in your home, and find new ones at great prices—all while giving back to the community. It's the best of all worlds!