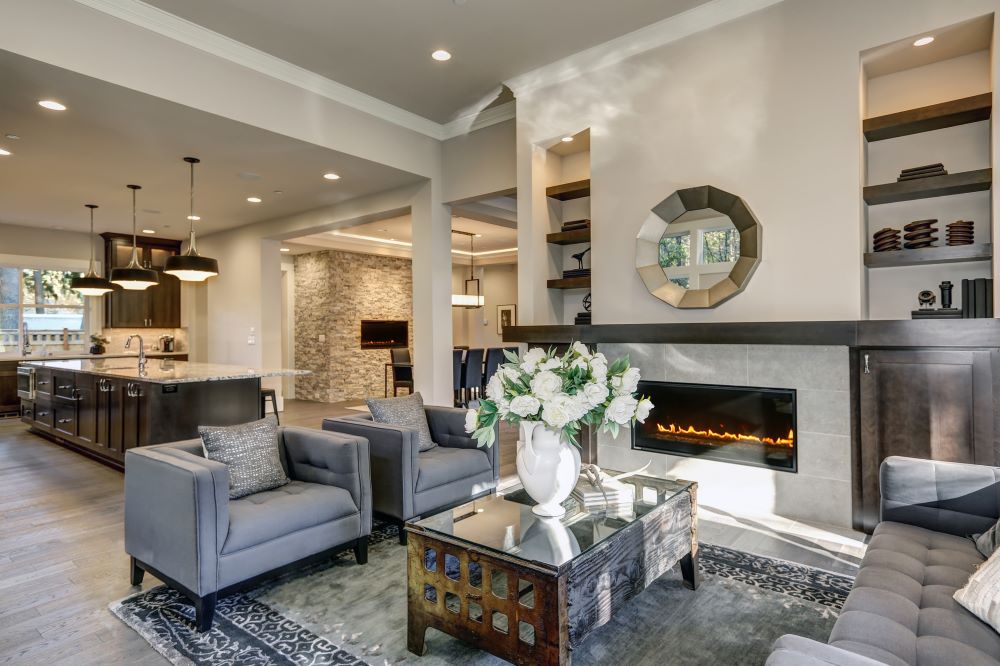 For most Americans, the last couple of years have been somewhat chaotic (to say the least) and have involved spending a lot of time at home. And, as a result, we've been spending more time than ever thinking about the spaces we inhabit, and what makes us feel comfortable, happy, and at ease. 
Unsurprisingly, those shifts in our collective consciousness are showing up in this year's latest trends in home décor. Current interior decorating styles reflect a longing for times that felt simpler, and spaces that feel relaxed yet vibrant. If you've been feeling that your house could use a bit of touch-up, there's no better time than now—check out these new trends in home décor, and watch how your space (and attitude) transform!
Multicultural Influences
After two years of being asked not to travel, it's no wonder that Parisian elements, Latin American themes, Mediterranean colors, and pastoral Swedish aesthetics are creeping into current home décor trends. Not only do these exotic touches help assuage our pent-up wanderlust (if only a little bit), they also help us to cultivate a sense of adventure within our own homes. 
What To Look For:
Parisian Themes: Combinations of pastels and metallics, as well as translucent materials like colored glass and gauzy curtains

Latin American Themes: Bright colors, vibrant patterns, geometric shapes, and bohemian elements

Mediterranean Colors: Smoky purple or whimsical blues, paired with rich or earthy neutrals

Pastoral Swedish Aesthetic: Antique accents (think vases or table centerpieces) combined with charming, homey art
Nostalgia and Vintage Pieces
Tired of waiting for supply chain issues to resolve themselves? Us too. Fortunately, you can avoid them altogether by turning towards vintage or antique items, which also happen to be back in style. Vintage and antique furniture is uniquely capable of bringing a sentimental, warm aura to a room, particularly the pieces that come with a backstory. What's more, shopping secondhand will give you the chance to capitalize on another of this year's major trends: sustainability (more on that below!).
What To Look For:
Unique secondhand pieces. Pro tip: start your search in luxury consignment stores, where you're more likely to find high-quality antique furniture that is still in good condition and has been authenticated by experts.
Natural Imagery and Elements
Countless scientific studies have proven the beneficial effects of nature on our health and well-being. Even when you're indoors, bringing natural elements into your living space can help cultivate an air of simplicity and calm in your house—something we could all use a bit more of at the moment. 
What To Look For:
Neutrals and earthy colors

Accents, furniture, or décor with organic textures or raw materials

Plants and other natural accessories (Not a fan of real plants? Consider looking for wallpaper or art that incorporate plant motifs)
Sculptural Furniture
Gone are the days of hyper-modernist décor, with its sterile, angular furniture. This year's hottest home decorating trends involve welcoming back curved, artistic shapes that add a friendly, quirky touch to rooms. This particular trend is extremely versatile—if you don't feel like throwing out all your furniture, you can focus instead on sculptural accessories. 
What To Look For:
Curves, arches, and rounded edges

Abstract, unique shapes
Sustainability
Spoiler alert: green is still the new black. And in the interior design world, this means creating spaces that aren't just nature-focused, but also environmentally friendly. There are tons of ways you can go about this, from energy-efficient appliances and lighting to sustainably produced furniture and products. 
What To Look For:
Natural, eco-friendly fabrics

Green technology

Reclaimed or upcycled items

Ethically sourced materials
Shop Designer Consignment for All Your Home Décor Needs
Updating your décor can be a daunting task, particularly if you're looking for unique, high-quality items. Rather than resigning yourself to mass-produced and overpriced items from furniture outlets, consider shopping luxury consignment instead. There, you're more likely to find one-of-a-kind furniture and décor that will make a statement, particularly given this year's focus on sustainability and nostalgia. 
North Shore Exchange is a nonprofit luxury consignment shop that offers pre-owned and pre-loved designer furniture, clothing, vintage jewelry, and accessories. Our expert Merchandising team carefully inspects all products to ensure authenticity, so you can shop for discount luxury items with complete confidence. Explore high-quality, timeless handbags, jewelry, clothing, or home accessories and decorative objects!
You can also donate or consign your own luxury items at North Shore Exchange today. Get cash for the luxury goods in your home, and find new ones at great prices—all while giving back to the community. It's the best of all worlds!