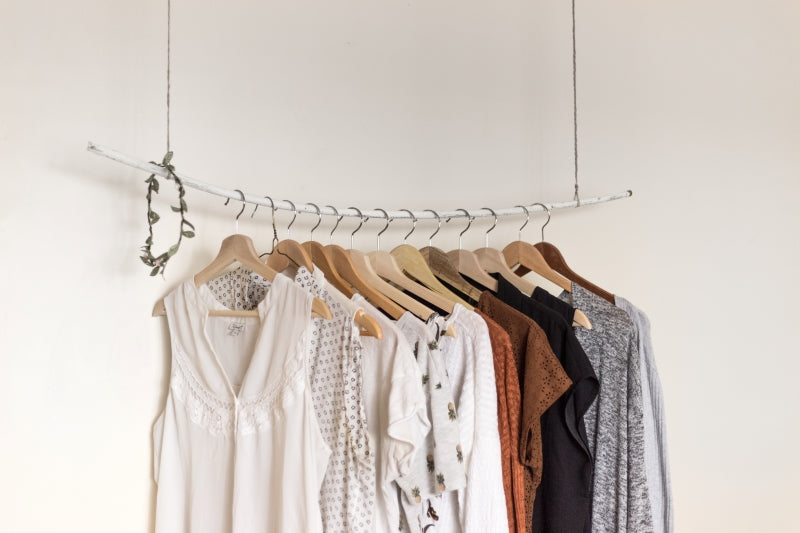 How To Build a Capsule Wardrobe
If you've ever opened a closet full of clothes and still experienced the sinking feeling of having nothing to wear, then it might be time to switch up your approach to fashion. 
Generally speaking, most people tend to (consciously or not) equate fashion with maximalism: more is better, and repeating outfits is no fun. But there are a few problems with this mindset: first, more is messy, and unless you're one of the lucky few to have been blessed with a Sarah Jessica Parker-size closet, having a different outfit for every day of the year isn't exactly realistic. On top of that, more clothes equals more choices to be made each and every day, which can get overwhelming fast. And finally, more isn't sustainable, as we've outlined previously in pieces about the dangers of fast fashion. 
What Is a Capsule Wardrobe?
Capsule wardrobes present a solution to overflowing dressers and the dreaded nothing-to-wear syndrome. In the words of Misha Nonoo, designer and capsule wardrobe champion,
"A capsule wardrobe is a concise, curated selection of timeless clothing. It can vary from person to person based on our differing lifestyles, but the best pieces are the kind that can be worn at work, during cocktail hour, and dressed down on the weekend. Streamlining your wardrobe streamlines your life...It's assuring to know you only own pieces that can be paired easily and always look chic."
Put simply, a capsule wardrobe is a collection of clothing pieces that all go together, thus allowing you to mix and match them into numerous different outfit combinations. 
The Benefits of a Capsule Wardrobe
Capsule wardrobes are proof that minimalism and fashion aren't mutually exclusive. But even if you don't identify as a minimalist, capsule wardrobes come with a handful of other benefits that might interest you:
They're less work.

Having fewer choices means spending less time choosing clothes in the morning (not to mention fewer clothes to wash and maintain).
They cost less.

Curating a small, finite wardrobe will help you spend less on clothes (not to mention, dry-cleaning fees). And that in turn, means…
You can focus more on high-quality pieces.

Downsizing your closet is also an opportunity to invest in quality over quantity.
It's more sustainable.

Capsule wardrobes are good for the planet, too. Limiting your wardrobe and becoming more conscientious of your fashion choices means that you're not contributing as much to the fast fashion industry. 
Less clothes = less mess.

Enough said!
Getting Started on Your Capsule Wardrobe
Building a new capsule wardrobe is exciting, but it can also be a little overwhelming if it's your first time. To help, we've rounded up a few tips and tricks to help you get started. 
First, purge your wardrobe. Before you buy anything new, it's time to get rid of anything that no longer serves you or fits your aesthetic. This includes outdated styles, items you don't wear often, clothes that no longer fit, and pieces that are stained or damaged. 
Having trouble? Refer to our handy guide to cleaning out your closet.
For clothes, shoes, and accessories that are in good condition, luxury consignment is a great way to recycle used clothing (and recoup a little money in the process, too!). North Shore Exchange offers personalized luxury resale services for high-quality, gently used items, so you can rest assured that your clothing is going to a good home. 
Next, it's time to create your capsule wardrobe checklist. According to experts, a good capsule wardrobe will have somewhere in between 30 and 50 items in it, but those items will differ for everyone depending on their lifestyle, personal aesthetic, and more. As a starting point, however, stylists recommend incorporating the following:
Jeans

Work-appropriate and/or dressy bottoms (trousers, skirts, etc.)

Shorts (if necessary)

Blazer

Cardigan(s)

Trench coat

Heavy winter coat (if necessary)

Black dress

Sweater dress

Summer dress

Neutral tees

Work-appropriate blouses

Neutral button-down

Casual sneakers

Nude heels

Everyday flats

Sandals

Winter boots 
To get a more specific idea of how to shop for your capsule wardrobe, you might also ask yourself the following questions:
How much time do you spend in work clothes vs. casual clothes vs. going-out clothes?

Which words best describe your style?

When it comes to the things you wear on a daily basis, what are your priorities? 

Which fabrics and colors do you like the best?

Which types of clothing do you gravitate toward most often (e.g., dresses vs. pants vs. skirts)?
The key to a good capsule wardrobe is versatility. Ideally, most (if not all) of the items in your wardrobe should be able to be paired with one another, and you should be able to use accessories to dress them up or down for any occasion. 
Having trouble figuring out your capsule wardrobe? Consider visiting North Shore Exchange. Our luxury resale shops include a wide variety of high-quality, versatile, and elegant pieces, and our expert stylists will work with you to determine the best clothing for your preferences, lifestyle, and body. 
North Shore Exchange is a nonprofit luxury consignment shop that offers pre-owned and pre-loved designer furniture, clothing, vintage jewelry, and accessories. Our expert Merchandising team carefully inspects all products to ensure authenticity, so you can shop for discount luxury items with complete confidence. Explore high-quality, timeless handbags, jewelry, clothing, or home accessories and decorative objects!
You can also donate or
consign your own luxury items
at North Shore Exchange today. Get cash for the luxury goods in your home, and find new ones at great prices—all while giving back to the community. It's the best of all worlds!