How-to Sell Jewelry Resource Guide
The Resale Market for Jewelry is booming so now is a great time to sell with us those items you are no longer wearing!
North Shore Exchange is the perfect place for your beautiful things to find a delighted customer and a new home and for you to make money and do good while you are at it!
We sell items from $40 all the way up to over $20,000. We sell beautiful costume jewelry – vintage and current brands like Miriam Haskell, Alexis Bittar, Kendra Scott, Dior and many others. Our fine jewelry ranges from David Yurman, John Hardy, Lagos to Tiffany, Cartier and special custom pieces.
We want to make this easy for you.
Here's what to do:
1. Know how to reach out:

Meet Martha! She and her team are your resources to consign anything jewelry related. Martha has been managing our jewelry consignments for over 8 years.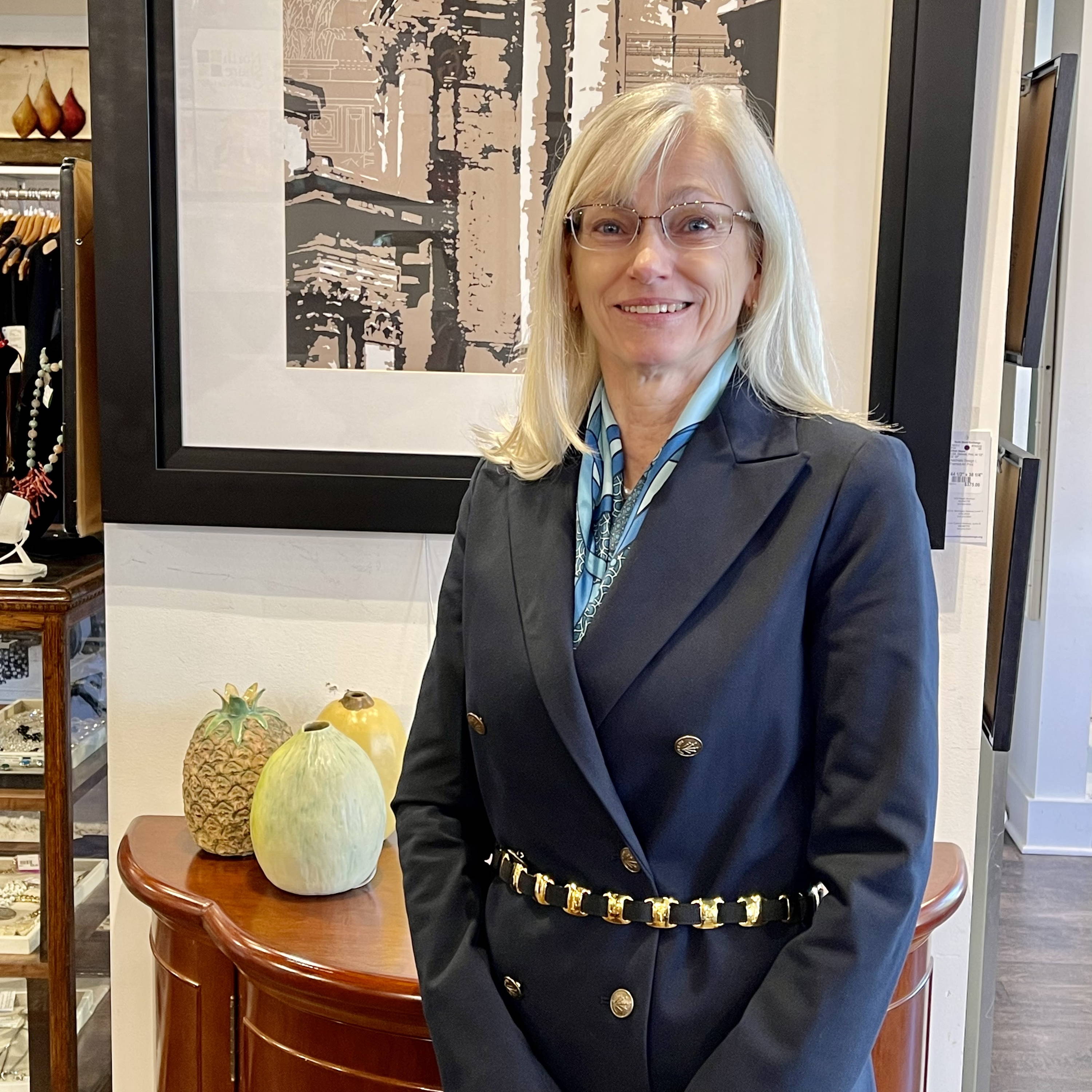 Martha,
Director of Consumer Relations and Fashion
"I love the range and quality of jewelry we offer. We have something for everyone."
We have adapted the jewelry consignment process as our jewelry business has grown exponentially. Private clients, estate sales representative and renowned jewelers trust us with their items.
With a team of 4 dedicated and experienced staff and the help of outside experts like jewelers and authenticators, gemologists, appraisers and horologists for specific areas like vintage watches, as we are determined to get the right price for your jewelry.
We also have specialists who repair, restore and fix items. If it is a new battery for your watch, the reknotting of your pearl necklace or the polishing of your jewelry we developed relationships with a group of outstanding craftsmen and women.
I would love to hear from you! Email me at: martha@northshoreexchange.org
2. Know what sells
Branded jewelry from Chanel, Hermes, Alexis Bittar, Tiffany, Cartier, David Yurman, Lagos, John Hardy, etc.
 
Fine jewelry that has a classic or current style. Vintage pieces also sell well.
 
Fun costume or vintage costume jewelry that has a resale value of at least $50.

 
3. Know what to do next
Visit our website for more information
 
Send Martha an email with a description/photos of your items. If you have lots of pieces, she is happy to do a home visit or virtual appointment
 
In a week or so, check your email for the pricing on your items. Martha will personally call you with pricing on items over $1000
 
Wait for your items to sell fast
 
Receive your check within 30 days of selling
 
All About Jewelry Consignment by Martha:

Most consignors come to us because their jewelry box is full of pieces that they are no longer wearing, or they inherited pieces that they will never use.

What does jewelry consignment mean:
It is the act of giving another person or business the authority to sell an item on behalf of the owner. The consignor will receive a percentage of the sale price as a commission for allowing someone else to sell it.

Consignment Appointment:
You can either make an appointment at one of our stores online or via phone. You can also request a virtual or in person appointment by emailing me.

Peace of mind:
During the process of evaluating your pieces, they will be stored in a secure safe. We have special jewelry insurance and inventory process for when your pieces either go to a third party for evaluation or we transport them to another store.

What happens next:
After you made an appointment and consigned your jewelry, we will determine its value. We will look at each piece for marks, engravings and signatures. If one of your pieces is a trademarked piece like a "Tiffany Return to Tiffany Oval Tag Necklace" we will research on the retailer's website for the retail price and the internet for resale price points. We want to make sure that we price correctly to be competitive and sell your piece at the right price and as fast as possible. If your pieces are unsigned, we take them to a jeweler to have them tested and evaluated. This service is free of charge. For items with a resale value higher than $1,000, we have them professionally appraised for a cost of $50. This appraisal goes with your jewelry when it sells.

Appraisal:
The appraisal will determine the retail replacement cost of your jewelry but not the resale price. The appraiser will issue a written report included a photograph, description, and the insurance value of the piece. Our certified appraiser will also provide us with an estimate for the resale price.

Appraised jewelry:
After your jewelry comes from the appraiser you will receive a call and we will inform you about the value of your piece and the recommended resale price. Your account will be charge with the fee $50 for the service.

Watches:
We take all watches to authenticate the timepiece. We will inspect the watch and exchange the battery – we charge for this service $20. If the watch will not keep the time correctly, we will return the watch to you.

How to determine the value of your piece:
We look at the condition, hallmarks and stamps, brand names and the weight and length to evaluate the price of your pieces.

Costume jewelry will get priced at roughly a third or less of the retail price depending on the style and condition.

Fine jewelry and branded jewelry will keep roughly 50% up to 90% of the retail price. The CARTIER love bracelet from the '70 is still going strong after 50 years and will be priced at roughly 80% of the current retail price. Tiffany T bracelet, Hermes Clic Clac and Chanel pieces keep a very high resale value, have a huge appeal and are in high demand.

Salesfloor and Website:
We determine during the evaluation where and when your piece will go on the sales floor. Nearly all the pieces of $100 and above will be photographed and go on our website. Any jewelry priced $2500 and above is considered Premier. This jewelry does not have any markdowns or expiration period. Any changes in pricing will be approved through you.

All other jewelry do have markdowns. After 30 days merchandise $2400 or less will get automatically reduced 25% and after another 30 days an additional 25%.

We hope this helps answer most of your questions!

We look forward to seeing you soon!

Martha Kirtley,
martha@northshoreexchange.org
Director of Consignor Relations, Fashion and Jewelry