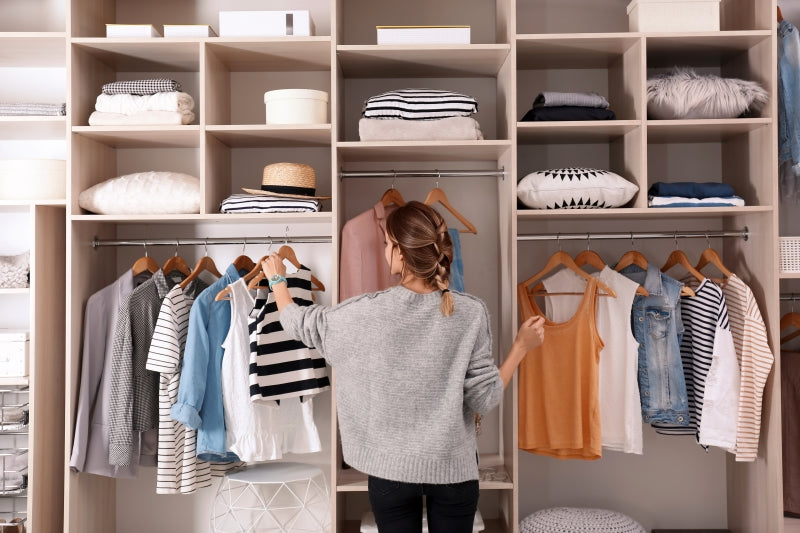 The Benefits of Consignment Selling
Whether you're cleaning out your closet, moving, or handling an estate sale, consignment selling is a great option for getting rid of any items you no longer want. This is particularly true if the items in question are luxury or designer-made, or if you need to move a large number of items very quickly (as with an estate sale). 
Still, many people aren't aware of all the benefits that selling on consignment offers, particularly when it comes to luxury resale and estate consignment. Here, we'll run through a few of the things you can expect when you work with a luxury consignment store like North Shore Exchange:
Flexibility
Particularly when downsizing, dealing with an estate sale, or other circumstances that require you to offload a large number of items, having to figure out different solutions for different types of items (such as furniture, clothing, jewelry, and home goods) can be exhausting and time-consuming. At consignment stores like North Shore Exchange, which carries a diverse array of products, you won't have to worry about that. North Shore Exchange accepts a wide variety of home goods and fashion products, including decor, furniture, clothing, shoes, jewelry and watches, and handbags. 
It's Better for the Environment
Consignment (particularly luxury resale) is an eco-friendly way of recycling high-quality, durable items. This is environmentally beneficial on several levels. First, by consigning your pre-loved items, you're giving them a chance at a new life, rather than dooming them to take up space in a landfill. But on top of that, when you consign things like furniture or clothing, you're promoting sustainability and fighting back against the fast fashion and cheap furniture industries—both of which are extremely problematic in terms of pollution and carbon emissions. 
It's Less Hassle for You
In the increasingly busy modern world, time is our most valuable resource. Consignment stores like North Shore Exchange give consignors the gift of time back by handling the work of assessing, listing, and selling their items for them. What's more, many consignment stores will include transportation for consigned goods in their services, particularly in the case of large collections or estates. That means less time you have to spend on the phone coordinating movers, or transporting the items yourself. 
Your Items Will Be Valued Fairly
A good luxury consignment store will have dedicated personnel who are trained to evaluate luxury fashion brands, precious jewelry, antique furniture, and more. North Shore Exchange's trained team members subject all new items to a meticulous authentication process before extensively researching their current market value. As a result, our consignors are able to earn commissions that amount to anywhere from 40%-90% of the item's value. 
Your Items Will Get More Exposure
As an individual, your ability to successfully market and advertise your items is inherently limited. One of the biggest benefits of consignment is the visibility that your products will gain from being shown on the store's sales floor or listed on their online shop. And, as any marketing guru can tell you, more visibility means a higher chance of making a sale. 
Personalized Service
At North Shore Exchange, we strive to make sure our consignors feel like valued members of our community. We schedule personal appointments with consignors to discuss the consignment process and answer any questions. Once items have been listed, consignors can log into their online portal to check the status of their items at their convenience. After their items have sold, consignors are paid promptly at the beginning of each month. 
You're Making a Difference
As a nonprofit, 100% of North Shore Exchange's profits are donated to local charities. When you consign with us, you're not just earning money by selling your unwanted secondhand clothes or designer watches. You're also helping the wider Chicago community in the following ways:
funding job training that will provide a brighter future for local youths

ensuring that homeless teens have a place to sleep at night

feeding families who are suffering from poverty and hunger

providing access to medical care for residents who can't afford it
North Shore Exchange is a nonprofit luxury consignment shop that offers pre-owned and pre-loved designer furniture, clothing, vintage jewelry, and accessories. Our expert Merchandising team carefully inspects all products to ensure authenticity, so you can shop for discount luxury items with complete confidence. Explore high-quality, timeless handbags, jewelry, clothing, or home accessories and decorative objects!
You can also donate or
consign your own luxury items
at North Shore Exchange today. Get cash for the luxury goods in your home, and find new ones at great prices—all while giving back to the community. It's the best of all worlds!