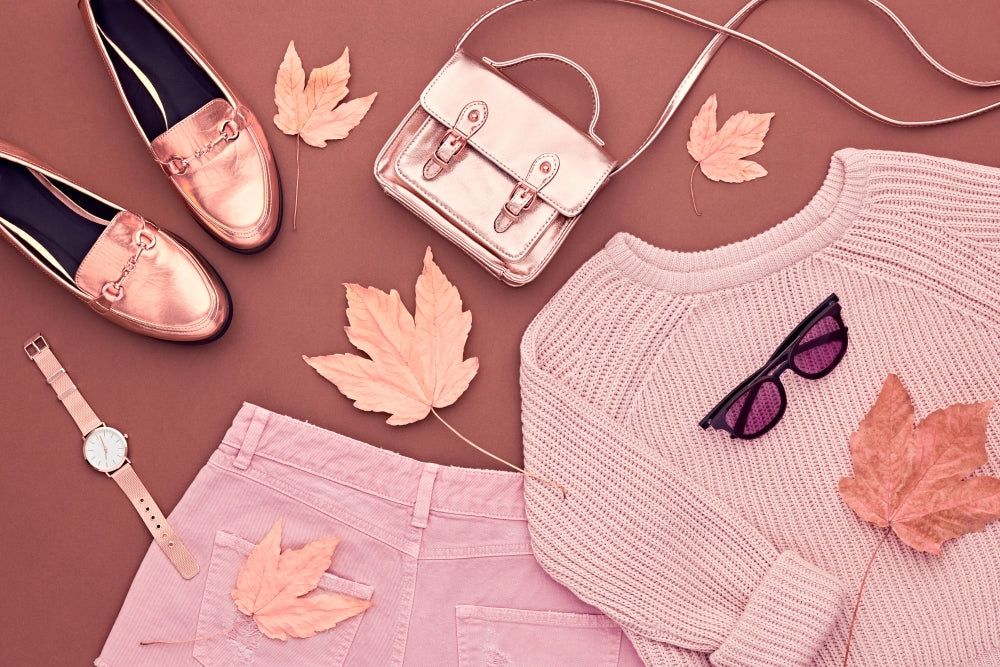 What To Wear: Fall Wardrobe Essentials
If you're looking forward to the end of summer, you're not the only one. According to one 2020 survey, fall—the season of pumpkin spice lattes and changing leaves—is America's favorite time of year. 
If you ask us, there's no better way to get in the autumnal spirit than by transitioning to your fall wardrobe. For fashionistas, fall is a time of potential. As Marie Claire writer Sara Holzman puts it, "If summer is for showing off how great you look without a lot of clothing, fall is for demonstrating what you can do with your wardrobe." To help you with that endeavor, we've compiled the ultimate guide to how to build a fall wardrobe. From enduring fall wardrobe essentials to this year's runway trends, we've got you covered. 
Classic Fall Fashion Must-Haves
When it comes to fall fashion, layers are your friends. As such, it's wise to cultivate a fall capsule wardrobe full of elemental pieces that can be worn alone or mixed and matched with more current pieces. Here are a few you might start with:
Outerwear
The right outerwear adds an entire dimension to your outfit. Go for items like trench or camel coats (classic), cardigans (cozy), and blazers (sophisticated). Focusing on versatile hues like tan and olive green will ensure that these pieces jive with most other colors.
Pro tip: a good trench coat or blazer should last you for decades, not just a season or two. For quality pieces that will hold their value, consider shopping
luxury resale
. 

Tops
Sweaters are (rightfully) one of the quintessential pieces of fall attire, but they're not the only tops worth stocking in your fall wardrobe. In addition to a comfy, elegant sweater or three, look for white button-downs, neutral or striped tees, and a denim shirt or flannel.
Dresses
Sweater dresses or knit fabrics are both flexible, classic fall options. However, for a little more variety, look for long-sleeved dresses in autumn colors like olive, maroon, mauve, orange, and brown.
Bottoms
Jeans are a fall staple, and offer endless opportunities for variety—for example, wide legged, black, skinny, or cropped. In addition to a couple pairs of pants, consider adding a skirt or two. Solid neutrals are always a safe bet; for something more interesting, consider skirts made of denim, florals, or leather. 
2022 Fall Fashion Trends
Of course, this year boasts its own fall-specific fashion trends, and we'd be remiss if we didn't mention them. For a more current look, incorporate the following straight-from-the-runway styles with the pieces in your standing fall capsule wardrobe:
Bright Colors
And by bright, we mean
 

really
 

bright—highlighter yellow, hot pink, eye-popping green. Consider pairing brightly colored accessories (scarves, handbags, shoes) with classic fall neutrals for an eye-catching pop of color.
Hard-core aesthetics
Recent years have seen a wave of trending aesthetics, including the still-popular cottagecore craze, which focuses on whimsical style elements like flowy dresses, puff sleeves, floral prints, light natural tones, and lace.

However, the most recent aesthetic to take the fashion world by storm is Barbiecore, inspired by none other than the Mattel superstar herself. And as it turns out, the rules of Barbiecore are refreshingly simple: make it pink, make it short, make it sparkly, make it extra.


Suits
Who says suits are just for men? This year's fall runways saw a plethora of tuxedo-clad women. In lieu of a full-on suit, pair a black blazer with pants or a dress to capture the same classy vibe.
White Tank Tops
Amidst the details, frills, and sparkles of many of this year's other looks, one trend is refreshingly basic. Instead of folding up your white tank with the rest of your summer clothes, leave it out this year and wear it with jeans for a classic look or leather pants for an edgy option. Alternatively, visit your local
luxury consignment store
and treat yourself to a new one.
Black Dresses
Devotees of the LBD, rejoice—your moment has come! Black dresses made a comeback this year, many of them sporting plenty of shimmer and sparke. And,
as many fashion experts are pointing out
,

black dresses have the added benefit of being the perfect backdrop for your favorite standout pieces like your favorite statement
luxury handbag
, or glam
designer jewelry
.
Whether you're looking to put together a timeless fall wardrobe or stock up on unique seasonal pieces, we have something for you. North Shore Exchange is a nonprofit luxury consignment shop that offers pre-owned and pre-loved designer clothing, jewelry, furniture, and accessories. Our expert Merchandising team carefully inspects all products to ensure authenticity, so you can shop for discount luxury items with complete confidence. Explore high-quality, timeless handbags, jewelry, clothing, or home accessories and decorative objects!
You can also donate or
consign your own luxury items
at North Shore Exchange today. Get cash for the luxury goods in your home, and find new ones at great prices—all while giving back to the community. It's the best of all worlds!