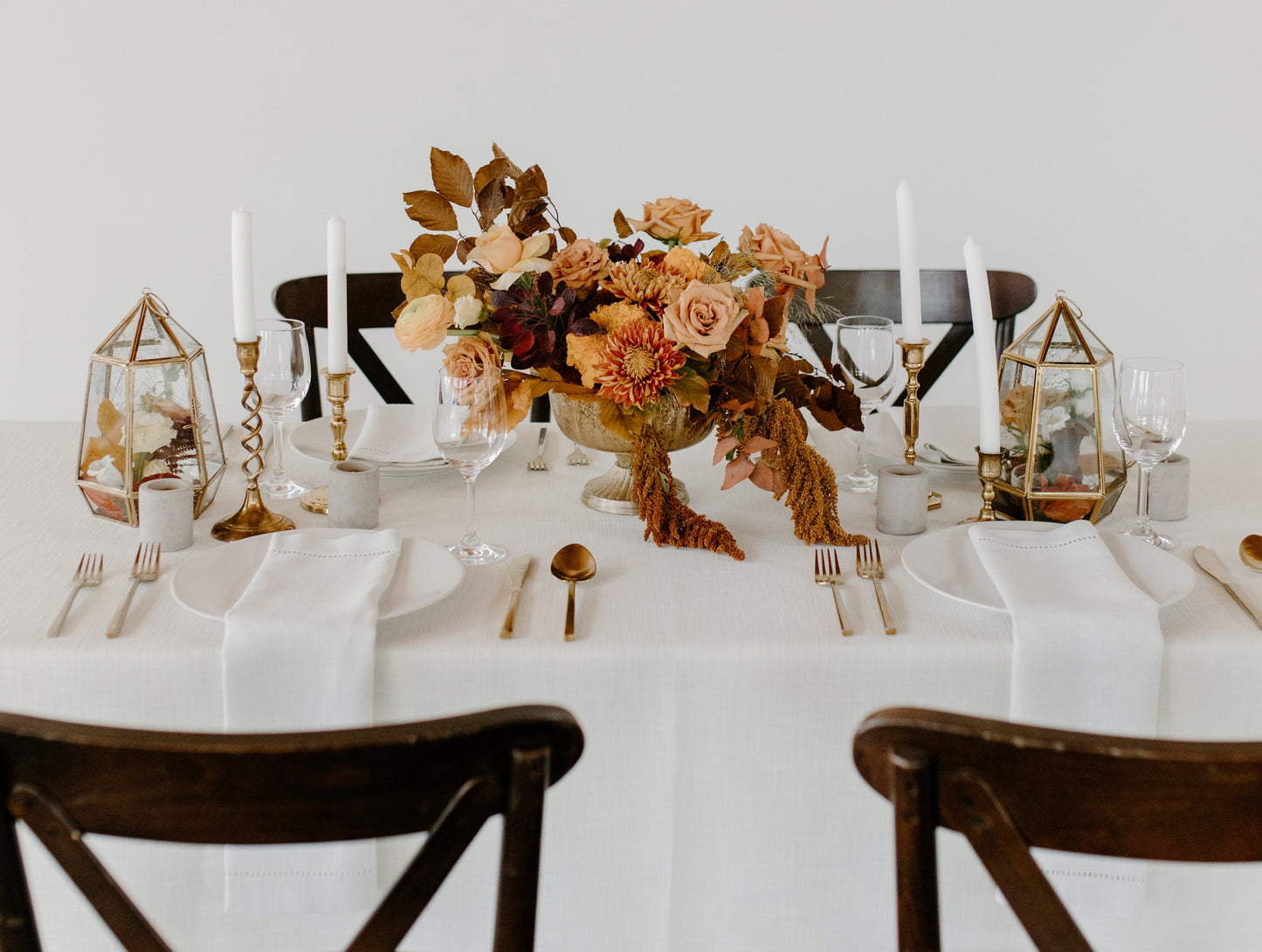 How To Decorate a Beautiful Table
We've all got that one friend (or want to be that one friend) whose dinner parties are unmatched, whose entertaining skills seem effortless, and whose dining room decor looks like it fell straight from Heaven (or the latest issue of Luxe Interiors). Yes, that friend. 
While we can't help you with the entertaining skills or the perfect seating arrangement for the special evening, we do know a thing or two about decorating tables. A nicely-decorated table isn't just an accessory; rather, it serves as both a focal point and backdrop for a meal. 
Done well, your table decor can elevate an event or party to a whole other level. Keep reading for some essential tips and tricks for decorating a gorgeous table—as well as some ideas where you can find centerpieces and table decor that allow you to achieve effortless elegance and style. Who knows—you might find yourself becoming that friend.
Make Note of Your Surroundings
In the same way that you would never start painting a room without considering the lighting, shape, and function of the room, you should never start decorating a table without considering the other factors at play in your dining room. In particular, it's a good idea to take into account the shape and size of your table, the color and existing decor in the room, and the dishes you plan on using. 
Think About Your Vision
Once you've made note of the room and furniture you're working with, start to think about how you want your dining table decor to fit into that, and what sort of design scheme might work best in that space. For example, if the room is decorated with largely neutral colors, you might opt to incorporate a splash of color in your table decorations that will really stand out. Alternatively, if the room already has some color to it, think about whether you want to match or contrast with that color. 
Table decor is also a great way to incorporate seasonal or occasion-specific themes. If it's fall, consider adding decorative gourds to your table spread. Or, if it's spring, you might opt for pastels and lots of florals. 
Similarly, start brainstorming the type of ambiance or mood you'd like to cultivate for the dinner or event you're hosting. Are you going for an intimate atmosphere? Dispense with the overhead lights in favor of lots of candles, or tea lights that run the length of the table. Something bohemian and eclectic? Consider mismatched dishware and asymmetrical design. Antique centerpieces like vases or serving trays can help create a timeless, elegant aesthetic. Spend some time browsing the Internet for ideas, and make note of what you like and don't like. 
Pick a Centerpiece (or Centerpieces)
If you try to focus on every aspect of your table decor at once, you'll drive yourself crazy. Pick a single item or element that is the most important to you, and work off of that. Centerpieces are a great starting point. Your centerpiece might be a vase, a flower arrangement, candle, or other decoration.
Your centerpiece should serve as a focal point, but it should also be balanced by the rest of the table. A single centerpiece might work well on a round table, but for longer rectangular tables, consider a centerpiece bordered by a series of other small complementary (or artfully contrasting) items. If you're working with multiple centerpieces, try to stick to odd numbers, and put the largest one in the middle. 
Delight in the Details
When you've settled on a centerpiece, it's time to start paying attention to the smaller surrounding elements. Napkins, tablecloths and table runners, sprigs of flowers or plants, candles and candle holders, and decorative bowls or vases are all great ways to incorporate color, texture, and form into your table decor. But you don't need to stop with those classic elements: get creative with paper shapes, beads, stones, figurines, or anything else you can think of. The more unique it is, the more memorable your table will be. 
Shop Smart for Your Table
Tired of seeing the same table decor items at home goods stores and websites? Yeah, us too. For one-of-a-kind, affordable home decor, consider stopping by your local luxury consignment store. There you're more likely to find pre-loved decor that's sure to add a flair to your table. What's more, designer consignment stores preauthenticate all their pieces, so you can be sure that the items you're buying are durable and made of high-quality materials. 
North Shore Exchange is a nonprofit luxury consignment shop that offers pre-owned and pre-loved designer clothing, vintage jewelry, and accessories. Our expert Merchandising team carefully inspects all products to ensure authenticity, so you can shop for discount luxury items with complete confidence. Explore high-quality, timeless handbags, jewelry, clothing, or home accessories and decorative objects!
In addition to making a potential profit on your unwanted items, North Shore exchange supports Chicagoland charities, and your purchases are helping to provide food for the hungry, shelter for the homeless, and services to prevent abuse to children and families. 
You can also donate or
consign your own luxury items
at North Shore Exchange today. Get cash for the luxury goods in your home, and find new ones at great prices—all while giving back to the community. It's the best of all worlds!