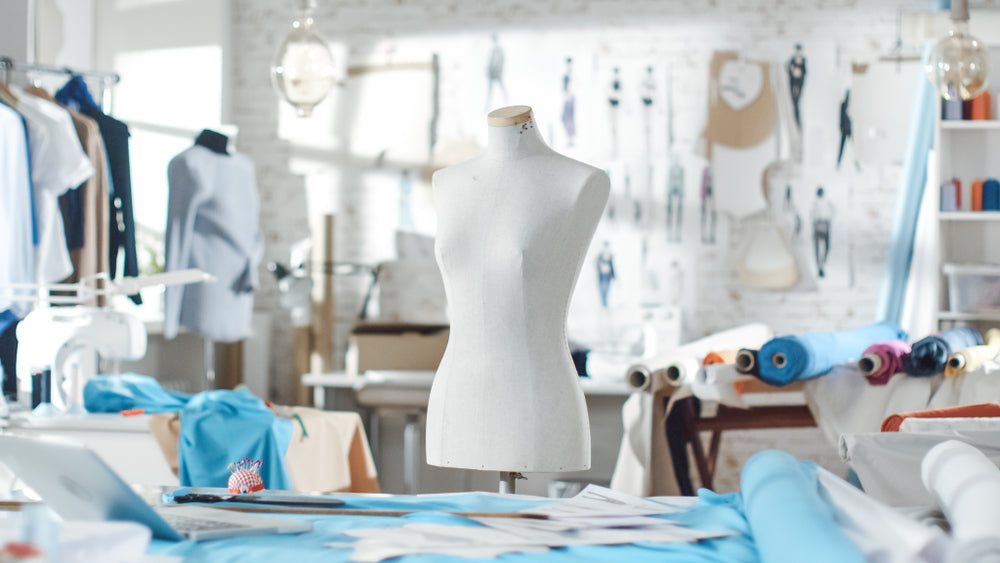 There's no question that fashion trends act as a kind of barometer for the wider social and cultural climate. Fashion—both for ourselves and our homes—is an important part of the way we express ourselves and react to the world around us. 
And, let's be honest: there has been a lot to process recently.


Designers and fashion influencers have been reacting to current events with styles that are comfortable but chic (reflecting the world's newfound appreciation for cozy attire over the last two years), colorful and skin-baring (an indication of the sense of exuberance and celebration that people may be feeling at the prospect of re-entering the world), and nostalgic (perhaps a not-so-subtle throwback to an era when things felt simpler). 
The bottom line is that it's a wild, wild world of fashion out there. Take a look at the following examples of current trends for a glimpse into the many, many fashion and interior design options available to you this year:
Wide-legged pants. 
For those of us who got used to comfort clothing during the pandemic, this trend spells good news. Look for wide-legged pants and sets made of comfortable knits and linen fabrics.
Y2K styles 
It's well-known in the fashion world that trends tend to resurface in twenty- to thirty-year increments. Sure enough, styles from the late 1990s and early 2000s are arriving again right on time. Channel the Y2K vibe with small handbags, wide-leg denim trousers, bedazzled logos, and velour sweatpants. 
Bare-all silhouettes 
This year, it's all about showing as much skin as possible. From high-rise miniskirts to microdresses to cropped cardigans and tops, there are a variety of ways you can wear these revealing styles.
Crochet and knit clothing
Think crochet sweaters, tops, dresses, and even sets. Pro tip: consider combining trends for cropped crochet tops and tanks. 
Biophilic design and home decorations 
Incorporating nature into your home isn't just a way to make your space feel more calming and organic. It's also a way to add texture, unique lines, and color. Consider adding plants and natural materials like terracotta, stoneware, and marble to your home to give it a natural flair. 
Sculptural and carved furniture 
A marked departure from the angles and sleek lines typical of many modern furnishings, 2022 is witnessing a turn toward curved, graceful lines. Think curved table and chair legs, as well as arched sofas and cabinets. In addition to lending movement to your home, these elements bring a softness and sensuality to your space, which can make it more welcoming. 
Power to the People
Beneath all of the aforementioned styles is a deeper underlying movement making its way through the fashion industry. While fashion has traditionally followed a top-down sort of formula in which designers and celebrities set the standard for what was considered to be in fashion, the emergence of social media platforms like Instagram and TikTok have shifted that paradigm. Although designers and celebrities do still exert a significant amount of influence, younger generations are also wielding a fair amount of power via the emergence of so-called "TikTok couture." 
The rising power of social media users in influencing fashion has another important consequence for the fashion industry. Rather than relying exclusively on fashion designers and retailers for new styles, consumers are increasingly opting for resale clothing from places like thrift shops and consignment stores. There are a few reasons for this. Chief among them are the affordability of pre-owned items and the environmentally friendly nature of luxury consignment clothing, which tends to be higher-quality and therefore longer-lasting than their fast fashion counterparts.
Further, shopping at resale and designer consignment stores offers another benefit: the chance to find unique luxury clothing, handbags, and furnishings. Because fashion trends tend to be recycled periodically, shopping for pre-loved items will sometimes yield an earlier iteration of a modern trend—one that is both easier on your wallet, and more likely to be one-of-a-kind. 
Keep Up With Fashion Trends by Shopping Designer Consignment in Chicago
North Shore Exchange is a nonprofit luxury consignment shop that offers pre-owned and pre-loved designer  clothing, vintage jewelry, and accessories. Our expert Merchandising team carefully inspects all products to ensure authenticity, so you can shop for discount luxury items with complete confidence. Explore high-quality, timeless handbags, jewelry, clothing, or home accessories and decorative objects!
In addition to the satisfaction you'll get from a decluttered closet, you can feel good knowing that North Shore exchange supports Chicagoland charities, and that your purchases are helping to provide food for the hungry, shelter for the homeless, and services to prevent abuse to children and families. 
Visit one of our locations or explore our website to see more about our work, our curated product selection, and how you can donate or consign your own luxury items with North Shore Exchange today. Get cash for the luxury goods in your home, and find new ones at great prices—all while giving back to the community. It's the best of all worlds! 
Follow us on
Pinterest
or
Instagram!