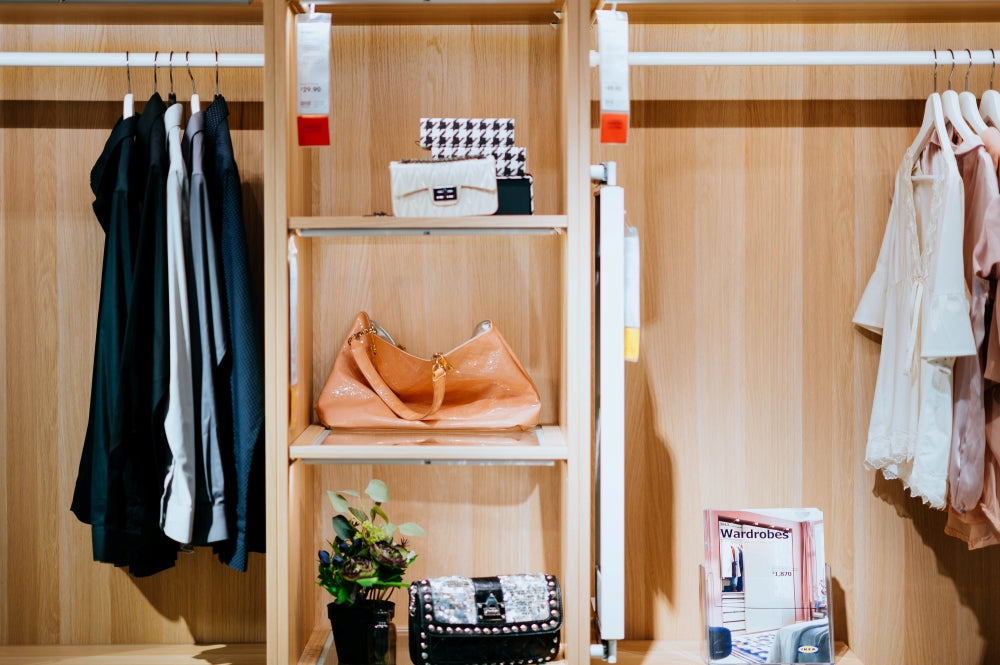 Build Your Capsule Wardrobe for Less
Since the 1970s, fashion-minded Americans have been hearing about the benefits of building a capsule wardrobe. A capsule wardrobe is a collection of essential, versatile clothing items that can be mixed and matched to create a wide variety of outfits. It promotes simplicity, reduces clutter, and saves both time and money. 
Capsule wardrobes require high-quality, well-styled pieces, but that doesn't mean you have to break the bank to put one together. With the right approach, you can (and should!) put together a high end, designer capsule closet at a great price. Here's what you should consider incorporating into your inventory of foundational pieces—and how you can do it for less.
What To Include in Your Capsule Wardrobe Collection
Although your ideal capsule wardrobe should contain pieces that are timeless, well-made staples, it should also be tailored to your lifestyle. Start by investing in the kinds of outfits you wear for the greatest part of each day or week. 
If you're a remote worker or stay-at-home parent, you might focus first on your casual capsule wardrobe or business casual capsule wardrobe. If you work in person at a corporate office or similar environment, you might prioritize business professional wardrobe essentials. If you work in a creative industry, a vintage capsule wardrobe might be the way to go.
Ways To Build Your Capsule Wardrobe for Less
While the concept of building a capsule wardrobe on a budget may seem daunting, it is entirely possible with a little thought and care. Here are some practical tips and tricks to help you create a stylish and affordable go-to clothing collection:
Assess your current wardrobe.

Before embarking on your capsule wardrobe journey, take inventory of your existing clothing collection. Discard items that are worn out, and

consider consigning

those that don't fit properly or haven't been worn in the past year. This process will provide you with a clearer picture of what you already own and identify any gaps that need to be filled.
Take care of your clothing.

Proper garment care

is essential for maintaining the longevity of your clothes. Follow the care instructions provided by the manufacturer to ensure that your items stay in good condition. This will minimize the need for frequent replacements, ultimately saving you money in the long term.
Define your style and color palette.

Developing a personal style and color palette is crucial when building a capsule wardrobe. Analyze your fashion preferences and lifestyle to determine the overall aesthetic you want to achieve. Consider factors such as your body shape, skin tone, and the colors that make you feel confident. By sticking to a cohesive color scheme, it becomes easier to mix and match different pieces.
A common (and expensive) mistake that many make when revamping a wardrobe is failing to critically consider their style and intentions. This all too often leads to overbuying and impulse-buying pieces that may not get worn. Thinking about your style first will allow you to be more discerning and invest only in pieces that add value to your collection.
Focus on basics.

Basics form the foundation of a capsule wardrobe. These timeless, essential items are versatile and can be paired with trendier pieces to create a range of outfits. Stock up on staple items like neutral-colored t-shirts, button-down shirts, well-fitting pants, and skirts that can be mixed and matched effortlessly. The ability to style the same piece in different ways will get you more for your money as you purchase new pieces. 
Accessorize to transform.

Accessories are a cost-effective way to refresh and transform your outfits. Invest in a few statement accessories such as scarves, belts, and jewelry to add personality and flair to your capsule wardrobe. These pieces can breathe new life into your existing clothing and make each outfit feel unique.
Prioritize quality over quantity.

Investing in high-quality garments may seem counterintuitive when you're building a wardrobe on a budget, but it's a wise decision in the long run. Well-made clothes tend to last longer, reducing the need for frequent replacements. Look for classic, timeless pieces made from durable fabrics that won't easily wear out or lose their shape.
Embrace versatility.

When selecting items for your capsule wardrobe, opt for versatile pieces that can be easily dressed up or down. Essential items such as a tailored blazer, well-fitting jeans, a little black dress, and a crisp white shirt can be styled in multiple ways, allowing you to create various outfits from a limited number of garments.
Plan your purchases.

Avoid impulsive shopping

and plan your purchases strategically. Make a list of the key items you need to fill the gaps in your wardrobe and stick to it. This will prevent you from buying unnecessary pieces and ensure that you stay within your budget. By adopting a thoughtful and intentional approach, you can gradually build your capsule wardrobe over time.
Shop luxury consignment stores.

One of the most cost-effective ways to build a capsule wardrobe is by shopping at upscale consignment stores. These hidden gems often offer unique, high-quality items at a fraction of their original cost. Take your time browsing high-end consignment boutiques like

North Shore Exchange

:

you may be pleasantly surprised by the treasures you find.
Build Your Wardrobe for Less With North Shore Exchange
North Shore Exchange is a nonprofit luxury consignment shop that offers pre-owned and pre-loved designer furniture, clothing, contemporary and vintage jewelry, and accessories. Our expert Merchandising team carefully inspects all products to ensure authenticity, so you can shop for discount luxury items with complete confidence. Explore high-quality, timeless handbags, jewelry, clothing, or home accessories and decorative objects!
You can also donate or
consign your own luxury items
at North Shore Exchange today. Get cash for the luxury goods in your home, and find new ones at great prices—all while giving back to the community. It's the best of all worlds!