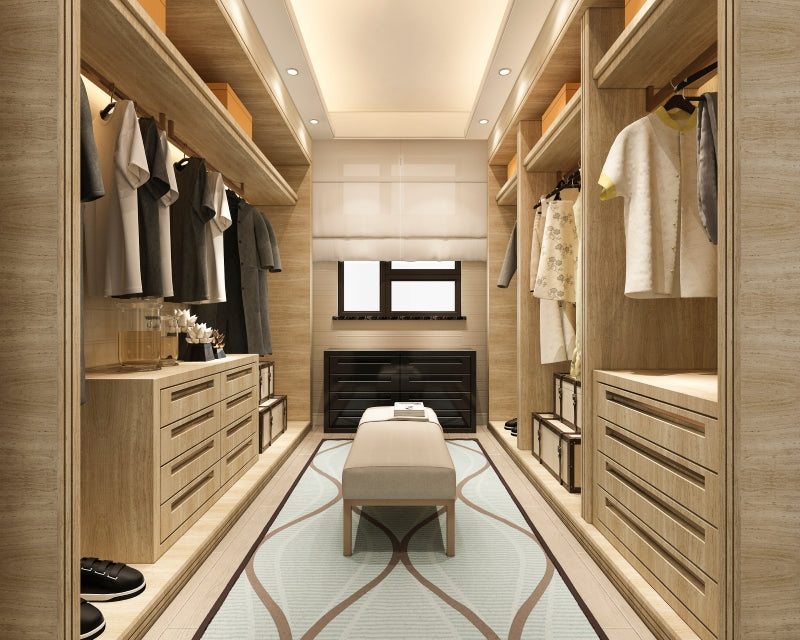 How To Upgrade Your Wardrobe
Maybe you got a promotion at work and are looking to step up your appearance in the office. Maybe you're tired of the cheap, seasonal fashion treadmill and are ready to cultivate a wardrobe that will last (without sacrificing style). Maybe you're tired of looking in the closet and feeling uninspired. Or maybe it's just time for a change. 
If any of the above scenarios resonate with you, it might be time to upgrade your style. It's an essential process for anyone who is interested in creating a wardrobe that is elegant, timeless, luxurious, and durable. 
Avoid Binge Shopping
Often, when we're feeling stylistically frustrated or bored, our tendency is to go on big shopping sprees where we buy a large amount of clothing based on what's popular, or what we think we should wear (rather than what we actually do wear). The problem with this is that it's not really effective or sustainable. When we indulge in binge shopping, we're more likely to buy items that are trendy, on sale, or don't really fit our lifestyle just because they're available, rather than making a conscious choice that aligns with our personal style and needs. Instead, try buying a few nice pieces that fill gaps in your existing wardrobe every now and again. 
Branch Out (but Not Too Much)
Exploring new brands and styles can be a great way to elevate your closet. Of course, there's a caveat to this—in doing so, you'll want to make sure that the new pieces you experiment with are still aligned with your personal style, and are compatible with your lifestyle. For example, if you regularly wear cardigans or sweaters to work, you might consider adding a casual blazer to the rotation for a classy change of pace. 
If you're interested in branching out like this, a good luxury consignment shop is your best friend. One of the biggest benefits of shopping luxury resale is the wide variety of brands and styles that stores like North Shore Exchange carry, and the opportunity to experiment with elevated fashion at an affordable price point. 
Invest in Quality
Focusing on buying high-quality clothing is perhaps the single biggest thing you can do to level up your entire wardrobe. Moving forward, try to avoid fast fashion brands. Their products are often made out of cheap fabric and constructed without the same attention to detail and quality that you can expect from designer clothing brands. As a result, they're almost certain to wear out within a year or two (if not sooner).

When shopping for clothes, stick to items that are made of high-quality fabrics like wool, silk, cotton, and linen. If cared for properly, these fabrics are much more durable, and the difference in quality is obvious in their appearance. Moreover, luxury fashion brands tend to be constructed with better craftsmanship and often come with bigger seam allowances, which means they can be tailored to fit your body. Speaking of…
Find Your Fit
Wearing ill-fitting clothes is a surefire way to make even a nice outfit look bad. On the other hand, custom-fit clothes can make an outfit appear more sophisticated and upscale—not to mention, you'll be more comfortable. Luxury fashion designers know this, which is why their clothes are often created with future alterations in mind. Not so with fast fashion brands, which tend to skip on seam allowances to cut costs, making their clothes unalterable for the most part. 
If luxury consignment stores are your best friends, think of your local tailor as your second-best friend. 
Level Up Your Accessories
A good selection of bags, shoes, and jewelry is an essential component of any well-rounded wardrobe. As your wardrobe's composition shifts to include more versatile, high-quality pieces, accessories will become even more important in adding subtle distinction to your looks and outfits. (This is especially true if you're working with a capsule wardrobe).
As with your clothes, when it comes to accessories, you'll want to focus on quality over quantity. The right accessories add that je ne sais quoi—that something extra—which is so essential for achieving a chic, elevated aesthetic.
Enlist Expert Help
Sometimes, an outside perspective is essential in figuring out how to upgrade your style. A fashion consultant can help by bringing fresh ideas to the table, offering insights on how to refresh an old look, and guiding your shopping experience (which will ultimately save you time, energy, and money). If you're struggling with how to take your wardrobe to the next level, consider dropping into North Shore Exchange to talk with one of our stylistically gifted sales associates. They'll help you identify high-quality pieces made by luxury fashion brands that are in line with what you're looking for. 
North Shore Exchange is a nonprofit luxury consignment shop that offers pre-owned and pre-loved designer furniture, clothing, vintage jewelry, and accessories. Our expert Merchandising team carefully inspects all products to ensure authenticity, so you can shop for discount luxury items with complete confidence. Explore high-quality, timeless handbags, jewelry, clothing, or home accessories and decorative objects!
You can also donate or consign your own luxury items at North Shore Exchange today. Get cash for the luxury goods in your home, and find new ones at great prices—all while giving back to the community. It's the best of all worlds!